"The DEPOT" Granbury, Texas
Home of the Hood County, Texas Genealogical/Historical Society
Research Archive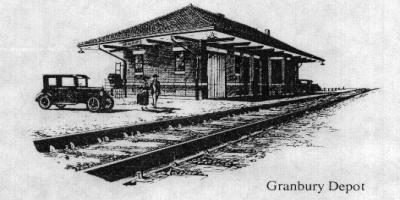 The Hood County Genealogical/Historical Society (HCGHS) maintains a Hood County, Texas Records Research Archive in the Historic Granbury Railroad Depot pictured above. The Society's mailing address is:
Hood County Gen/Hist Society
Post Office Box 1623
Granbury, Texas 76048-8623
Members of the Hood County Genealogical/Historical Society have indexed, alphabetical, by surname, a number of historic Hood County Records, both governmental and commercial. These indexes are offered for use by genealogists and researchers to assist them in finding relatives and other information in Hood County, Texas.
The Genealogy Research Library at the Granbury Depot is open Monday, Wednesday, Friday & most Saturdays from 1 PM to 4 PM or by appointment. Out of town researchers are encouraged to coordinate their desired time to visit by calling:
| | |
| --- | --- |
| Karen Nace | (817) 279-2995 |
| Jim Sutton | (817) 326-5877 |
Meetings are held by the Genealogical and Historical Society at the restored Granbury Depot 7:00 PM on the 4th Tuesday of each month (except November and December).
We would like very much to receive interesting anecdotes about early Hood County settlers, Bible records, diaries, letters, pedigrees, and family group sheets that could be published. We add this type of personal information to our files so it will be available for family and others.