A little background on George and Charles Barnard so that you will have a better understanding of Juana.
They were of English descent, born in Connecticut and educated at Harvard. George, who was born in 1818, came to Texas in 1838 and was active in the Santa Fe Expedition. He was captured but returned to Texas in 1842 in poor health. He met David K. and John F. Torrey in 1843 and located on the Navasota River at the Torrey Trading Post. In 1842 he located another Trading Post on Trading House Creek near Tehuacana. Then in 1849 he located one on the Brazos across from DeCordova Bend and his brother Charles came to operate it. He was very successful in dealing with the Indians. It was located in Navarro County, later Johnson County and then in 1866 in Hood County on the Felix McClusky Bounty Survey of 1,280 acres with George receiving a patent May 3, 1855. Originally that survey was on the outskirts of the Peters Colony.
George is shown on the 1850 Census twice–in Navarro and Limestone Counties with a worth of $3,000 and/or 8,000. In 1860 in McLennan County his worth was $45,540.
Charles was very successful before coming to Texas and was instrumental in bringing peace between the whites and Indians and did many good deeds for both sides, believing that the Indians had been mistreated in general by the whites. He was very liberal and was one of the charter members of the Acton Masonic Lodge. The 1860 Census shows his real estate to be valued at $50,000 and personal property $67,300.
In 1847 John Torrey became the first owner of Comanche Peak plus 320 acres surrounding it.
In September, 1847 Charles Barnard paid John Torrey $3,250 for a huge tract of land in Hood County which included the Brazos River. This probably included DeCordova Bend. In later years he made an agreement to lease DeCordova Bend for some period of time at $0.25 per acre. The leassor drew up the papers for a purchase and Barnard signed it without reading it. Later he learned that he had been swindled out of the property. His comment was, "it was not worth $0.25 an acre anyway."
The Barnard Trading Post was located on a tributary of the Brazos which came to be known as Village Creek because the Trading Post was on the east side and a village of Delaware and Shawnee Indians were on the hill on the west side. On the east side of the of the creek was a spring used for water and keeping the milk by both the Barnards and the Indians. Comanche Peak is across the river to the west. In locating the Trading Post on the Brazos it was originally called Barnardville, later being called Fort Spunky because in some skirmishes with the Indians the settlers were said to be a "spunky lot".
(Show pictures of Charles and Juana Barnard; Hood County History, p H 62; map and picture of of Trading Post and area.)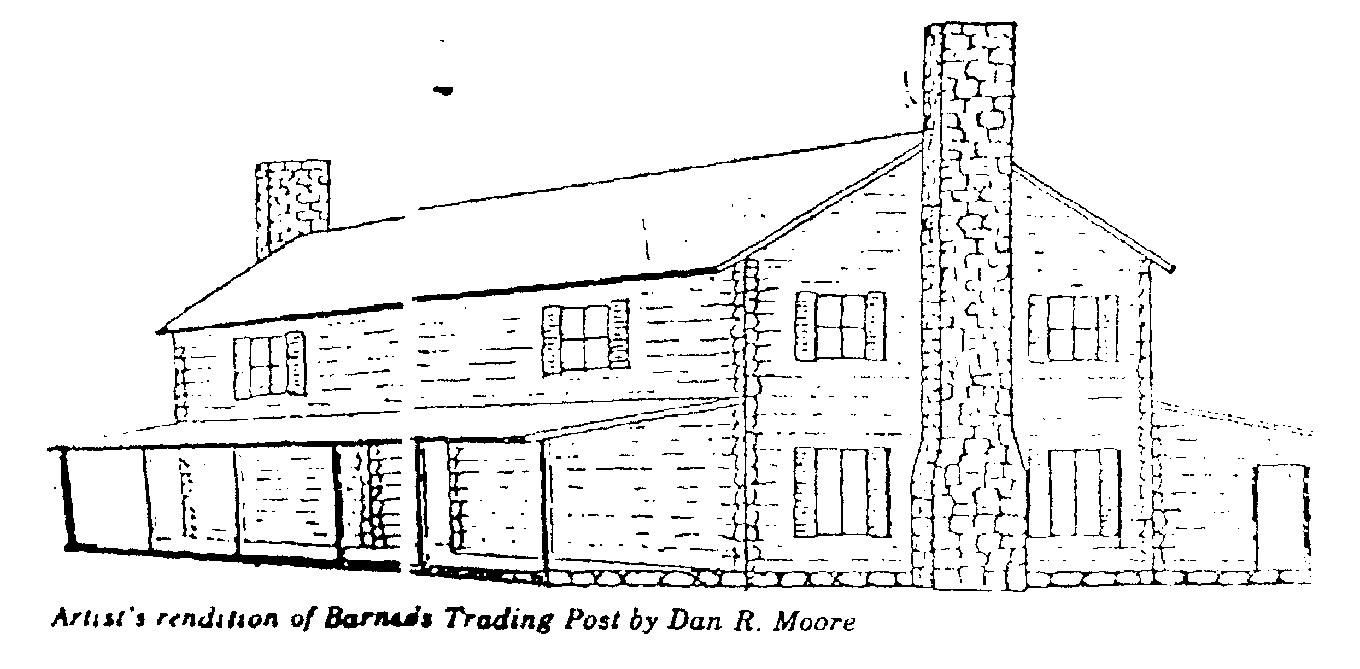 Now for the story of Juana.
Josephine Maria Cavasos was born June 24, 1824 in the Canary Islands of Spanish-Italian ancestry. Her parents, Juan Jose and his wife, had come to Matamoros, Mexico because his father, Don Narciso Cavasos, had received l06 ? leagues of land or 601,657 acres from the King of Spain. This was the largest land grant ever made in the New World and later became known as the King Ranch. It was lost for non-payment of taxes.
She had a twin, Juan, and three brothers and/or sisters. When she was about 18 years old she was visiting a friend on the Texas side of the Rio Grande.. The family she was visiting was raided by the Comanche Indians, killing several women and children and capturing Juana and her friend, Mary Alice.
When they attacked, the hoofbeats of many horses were like a thunderous roar. Even though she jumped into a bunch of jimson weeds to hide, a young buck without slowing down grabbed her by the hair, pulling her up and slung her across the horse in front of him. Juana saw her captor tear the baby from the arms of its mother, slung it against the limb of a mesquire tree to bash its head. Then with the stroke of a tomahawk, he laid open the head of the wailing mother. Thinking Juana to be dead, the buck grabbed her hair and looked into her face. What he saw was scorn, defiance, and hate; but he did not touch her the remainder of the ride.
Finally stopping at a dry creek, Juana was told to get off the horse and she was tied to a tree. There Juana hear a voice calling for her mother. Recognizing it to be that of her friend, Mary Alice. In rage, she screamed at her captor; however she was silenced with a fist in her face. They never heard her scream again.
They tied her feet together under the belly of the horse. She matted her fingers in the mane of the horse because after a raid the Indians traveled fast. Her friend was tied face down across a mustang with hands and feet tied together under its belly.
The girls were unleashed and when Juana saw some life in Mary Alice, she bolted passed her captor to cradled her head in her arms. She was jerked to her feet. Then a high, cracked voice gave a command and she was released. An old squaw, mother of the chief and widow of a medicine man who had passed his "power" to her for some reason became a friend of the girls seeing that they had food and water and protecting them from the savagery of the men, old and young.
They traveled about 150 miles to arrive at the Nueces River. They spent a restless night in pain, but the Old One heard their moaning and dressed their bruises with herbs and tallow with gestures that they should tell no one.
The Comanches had prepared a summer camp. But restlessness caused the girls to become anxious. One morning they were taken before a ring of Comanches. In broken Comanche, English and Spanish, the Indians tried to get them to tell where there were horse ranches on the Lower Rio Grande Valley. Mary Alice refused to answer. Juana was defiant with , "No se'" Periodically throughout the day they were dragged before the council. The girls created a story; but when the men returned with no horses, they were in a rage and attached the girls. Mary Alice, sobbing, begged for mercy. The Indian pinning her arms behind her and jerking her head back severed her jugular vein and beat her while she bleed to death.
Then they approached Juana with the same method of attack. By now she preferred to die and defied the Indian with, "Do it, then!" With knife in midair, he stopped and slowly dropped both arms and backed away. In defiance, she screamed, "Kill me, you coward! For God's sake, kill me!" Turning to talk with another, the chief came and laying his hand over her heart said, "Brave, like Comanche, no kill!"
This was a turning point and deep within her, hatred and defiance of the Indians increased her determination to live and escape. After this she was allowed to swim when water was available. She hated their brutality; yet she was never treated brutally anymore. She learned to live as the Indians–eat their food, soften skins for clothing, learned herbal medicine, speak Comanche, and wash with soapwort.. The hardest thing to endure was their filth.
One of their forms of entertainment was to make her get on a horse, with nothing to guide it, and force it into deep water where she would fall off the horse and have to grab its tail and swim to shore.
Winter was spent on the Guadalupe. A family trying to pass through was captured. The family was killed, except for a small boy. The Indians entertained themselves by holding the child's bare feet in the flames. Juana, unable to stand it, burst past the Indian and snatched the boy. The Old One who had befriended her motioned that she come and bring the boy to her teepee. She not only dressed the child's feet, but salvaged some food for them. She told Juana that she had insulted the Indian and she and the child were to be abandoned to starve. After some period of time, the Indians returned; but the child was dead and Juana was near death. Again the Old One befriended her and nourished her back to life.
George Barnard had established trading posts near Marlin Falls and Tehuacana. His brother, Charles, had come from New York to join him in the venture in Texas. They had made friends with Sam Houston in Houston.
Nearby was a camp of Comanches. From early 1844 to May 1846 she lived as a Comanche, working hard but allowed freedom to swim, shoot and ride wild mustangs. She became so skillful at breaking horses that the braves were jealous. Because she understood Comanche, she learned of a trading post on Tehuacana creek that treated the white man and red man the same.
By 1845 the settlers of Texas hardly slept except where the Torreys and Barnards had established a relationship with the Comanches. On February 7, 1846 at Comanche Peak, the federal agents had called for a powwow. The Indians accepted many gifts and exchanged some polite talk, but the treaty with the Indians did not materialize. Instead, a day in May at Tehuacana Trading House was set.
All the Indians, including the squaws and papooses attended; but Juana was left in a canyon 20 miles away to tend The Old One. In spite of all the care Juana could give her, she died.
By April, Indians were gathering on Tehuacana and Trading House creeks. The favorite sport was a sort of rodeo with each tribe entering its best riders. The ponies were wild; but one in particular had never been ridden. On the second day, she leaped past the watchers and ran to the wild one. Grabbing its hackamore, she leaped aboard and rode the wild mustang until it was exhausted.
Charles realized that this was not an Indian. As she leaped from the tamed horse, her tribe circled her but she was able to send a look which was unmistakably a cry for help.
Charles and George with smooth observation tried to bargain for the girl; but at that time she was not for ransom. A treaty was signed May 16, 1846 for a definite line some distance west of the westernmost settlements. Indians were to stay west; settlers were to stay east. However, through the negotiations, Juana was not to be seen. Just as the Indians were preparing to leave, she was taken to the trading house. There Charles and George were behind the counter with the chief and tribal leaders on the other side with piles of blankets, knives, beads, flour and sugar on the counter. George was the bargainer. The Indians were very demanding. Each time the Chief would shake his head, George would nod and Charles would add to the pile. At last the chief grunted and left with his men carrying the bounty.
She was placed under the care of an Irish lady named Katy. At each return of Charles, the attraction of Juana and Charles became stronger. He wanted her to go with him to the post far up the Brazos where she would be the only white woman. In the fall of 1847, Charles built a trading house. It was 1? story dog-run log house with two 24′ x 24′ rooms with a 14′ wide hall. The flooring was split cottonwood logs and the roof was cottonwood shingles. It had stone fireplaces and chimneys with windows at ground level on each end of the building. The foundation was large limestone rocks. It had a 12′ porch on the front and a 16′ wide shed on the back. (Show picture).
Even though Charles and George were Indian traders, Juana vowed that they would not be allowed at the post. They were married in October, 1848 and in August, 1849 their first child, Maria (called Tamasy), was born.
Juana loved to ride a fast horse and Charles always provided her one. She enjoyed the open spaced; but that also brought problems. On one occasion she rode from the post to the Brazos where she loved to sit and look out across the valley. Suddenly two mangy-looking men approached her and attempted to grab the reins of her horse. Spurring her horse and slashing him across the face with a rawhide quirt, she was able to escape. After that she always carried a small six-shoorter in the pocket of her riding habit.
Here on the frontier, the first white child was born in the territory. It was their son, John, who is buried at the George's Creek cemetery. Juana was never lonely on the frontier. Her children and her home brought much satisfaction. There was much sadness also, They had fourteen children with only four living to be adults. There were two sets of twins who died in early infancy. They are all buried in the Barnard Family cemetery.
One set of twins which died in infancy had been left in the care of a sixteen year old slave girl while Juana was away from the house. The girl wanted to go out and play so she put them to sleep with an overdose of laudum. Juana tied her to a tree and whipped her with a black snake whip until she gave out. Then she tied her up again and whipped her again until she gave out. When Charles came in, Juana told him what had happened and told him he would have to sell her or she would kill her.
In 1851, friendly Indians settled in a village across the creek from the trading post. They farmed, hunted, and were peaceful and enjoyed horse racing until about 1854 when they were removed to the Reservation at Fort Belknap.
There were no schools in the territory, so Charles tutored them. Later they attended Acton Institute and then Baylor. Acton Institute was housed on the floor of the Acton Masonic Lodge, of which Charles was a charter member.
Three Comanches brought a sick child to Juana. She recognied him as a Mexican child, deathly sick with pneumonia. After nursing him back to life, Charles and Juana raised Ambrosio Hernandez as their own until he died at the age of 59. He is buried in the Barnard Cemetery.
Lena, a daughter of John, name one of her sons, Ambrose.
At the age of 37 and with his work with the Indians finished, Charles built a mill on the Paluxy. One winter afternoon, Juana recognized the voice of Capt. Sullivan Ross who was a Ranger. He had a problem in that they had captured a white woman with a baby who was a captive of the Comanches. The only thing they could learn was that she was Peta Nacona's widow. Cynthia Ann Parker finally allowed herself and the baby to be bathed and accepted some clean clothing. When she left she told Juana, "You are kind and I thank you."
In about 1860 Charles had built Barnard's Mill at a cost of four years' time and labor and $30,000. The mill was sold to T. C. Jordan who changed the name to Glen Rose.
Near the trading post there was a shallow, stone-paved crossing on the Brazos where thousands crossed on the Chisholm Trail. In 1870, a large herd came from South Texas on the way to Fort Dodge, Kansas. The trail boss learned that the Brazos was on the rise and did not want to lose even a day. After the river became fordable, he went across to the trading post to thank the man for permission to camp. When Charles went out to greet the trail boss, Juana heard him speak and recognized the voice of her brother. She screamed, "That's Juan! That's my brother!" At that Juan leaped for the porch and a 28-year-long separation had ended.
It was a shock for Juan to find Juana alive. Both parents were dead; one brother and two sisters were living in Matamoros. In 1852 the land grant had been confirmed; but most had been sold off with the remainder being bargained for by a Captain King who wanted to found a ranch. Charles told him to deliver the herd, go home and prepare to move to Fort Spunky.
At the end of the Civil War, the slaves were freed; however, most of them chose to stay for pay. In addition, Charles Barnard had sold hundreds of acres of land and accepted Confederate money in payment. Of course, this meant that he was bankrupt.
On Christmas morning, 1870, Charles and the children gave her a surrey and two spirited black horses. In May, 1871 Juana, her son John and his friend set out for Matamoros and were able to cross some of the worst Indian lands with the protection of Indians that Charles had befriended.
Two sisters were still living in the family home which they enjoyed as well as swimming in the Rio Grande.
In 1872, Juan came to live on land bought from Charles at Fort Spunky and brought fine racing stock with him.
Little by little the fortune and land of Charles Barnard was gone; and at last the remaining 200 acres had to go.
Charles died June 23, 1900 and is buried in the Barnard Cemetery which is now in the middle of a peanut field.
Juana lived on and spent part of each day riding her horse, Pigeon. On February 1, 1906 Pigeon was lead to the mounting block so that she could visit two of her sick friends. Ariving home before sunset, she sat a moment on Pigeon looking across the fields toward the river she loved. About midnight she was heard to be moving around and when asked what was the matter, her reply was that she needed to rub some white linament on her head which was hurting. As they sat there talking, Juana stiffened and fell backward.
She had met death as she had met life–head-on and unafraid, asking no favors.
She is buried in the Barnard Cemetery beside Charles.
After hearing stories such as Juana's can you wonder why descendents of the early settlers take little stock in the stories that the Comanches were kind, loving and friendly–they were waring, nomadic thieves and murderers with their only entertaiment brutal savagery and torture.
vbm
7-8-97
BIBLIOGRAPHY
Webb, Walter Prescott. The Handbook of Texas, Vol I. Austin: The Texas State Historical Association, 1952. Pp 977.
Andrus, Pearl. Juana. Clifton, Commercial Printing, 1982. Pp132.
DeBusk, Leland. The Lonely Outpost. Granbury, Hood County News, April 17, 1993.
Vanderford, Lisa and Thelma McPherson Morrison. Personal Interview, August 24, 1993.
Junior Women's Club, Granbury, TX. Hood County History in Picture and Story, 1970. Fort Worth, Historical Publishers. Pp 190.
---
Hood County News, Wednesday, April 22, 1998
Historic trading post due state marker
In 1849; George and Charles Barnard established the first white settlement in Hood County It was trading post on a slight hill above the Brazos River just across the river from present-day Pecan Plantation.
The trading post will be commemorated with a state historical marker at 11 a.m. on Saturday, May 2.
The site of the trading post is just inside the Hood County line is in ruins and in a pasture that is largely inaccessible. The site is owned by Hood County resident O.C. Cheek. There are no plans to restore the trading post.
The public ceremony for the historical marker will be at the Georges Creek cemetery tabernacle just inside the Somervell County line. Having the ceremony at the tabernacle will make it easier for the public to attend explained Somervell County Historical Commissioner Dorothy Leach. To reach Georges Creek Cemetery, take U.S. 67 West east out of Glen Rose and turn left on County Road 308 past the Brazos River bridge. Members of the Hood County Historical Preservation Council and Johnson County Historical Commission will participate too in the ceremony.
The marker will actually be located on 67 near its intersection with County Road 308, Leach reported.
The Hood County Post was the second trading post established by the Bernard brothers. It served the Indians then living in North Texas. Sam Houston had promised the tribes a trading post would be set up in their country. The first post near Waco.
Charles Bernard married a Mexican girl ransomed from the Comanches. Juannah Cavassos was a teen-ager when captured by a Comanche war party on the Rio Grande. She was brought to the Bernard brothers for ransom at their Waco trading post. George Barnard purchased her for $300 in trade goods and his brother later married her in 1848.
The couple later moved to the Hood County location when the trading post was established. Their first son, John, was the first white child born in Hood County.
A mile southwest of the post was an Indian village of cabins and wigwam. A peanut field now covers the site, which is carpeted with flint chips.
Juannah and Charles lived at the post even after the native peoples were moved to Indian Territory.
In. 1860, Charles Bernard built a large limestone grist mill on the Paluxy River that was the nucleus of the present city of Glen Rose.
Here's what the Hood County Trading Post looked like:
The trading house was a 1 1/2 story dog-run with two 24×24 rooms separated by a 14 foot- wide hall. The flooring was made of split cottonwood logs cut from the Brazos River bottoms and the roof was covered with cottonwood shingles.
A stone fireplace and chimney, flanked by windows at ground level were located on each end of the building. The foundation consisted of large limestone rocks. A 12 foot porch extended the front of the building, while a 16-foot wide shed ran the length of the building in back. All the windows had louvered shutters and the house was enclosed by a rail fence.
Charles and Juannah are buried with a number of their descendants in a small cemetery just southeast of the trading post site.
For more information on the Barnard Trading Post ceremony call the Somervell County Historical Commission at (254) 897-9737.