Written by Odessa Mahan Purselley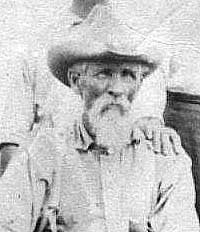 Caswell Purselley was born in Tennessee on November 29, 1845 of parents James and Martha C. Purselley. The family moved to Carroll County, Arkansas by the year Caswell was 16 years old.
He enlisted at Scott's Prairie (now Greenforest), Arkansas, in the Confederate Infantry. His muster-in was on February 15, 1862, and he served one year.
He married Sarah Emley Orrell on February 25, 1866 at Zion Hill, Arkansas. To that union were born 14 children. Their home was a farm near the Black Oak Community, Carroll County, Arkansas which they sold in 1892 and came to Texas.
They settled in the Bald Knob Community, Hood County, Texas (now Nubbin Ridge). Caswell was a Freewill Baptist preacher at the church there but later moved up to Mambrino. He died there on December 17, 1916 and was buried in the Nubbin Ridge Cemetery.
Three days later, December 20, 1916, his wife, Sarah, followed him in death was also buried in the Nubbin Ridge Cemetery.