Written by Virginia Hale
Contributions by Frank Saffarrans & W. Cody Martin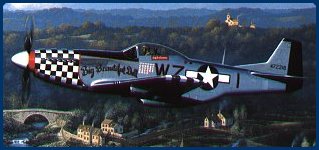 Colonel Landers' P51D Mustang "Big Beautiful Doll"
Colonel John Dave Landers, one of the U.S. military's greatest flying aces, lived the last ten years of his life in Granbury in Hood County, Texas. During World War II, Colonel Landers distinguished himself with 34.5 victories in both the Japanese and European theaters of war. He is recognized as a hero in the Battle of Britain.
John Dave Landers was the son of Obadiah Ray Landers and Mamie Legal Martin Landers. John was born on June 23, 1920 in Rexroat, Carter County, Oklahoma.
On July 28, 1938, 18-year-old John Dave Landers applied for a Social Security card and resided in Joshua, Johnson County, Texas. He was employed with the Lone Star Gas Company at 915 Wood Street in Dallas, Texas.
During World War II, John Dave Landers attended flight school, specializing in fighter planes, at the Ryan School of Aeronautics in San Diego, California. Landers was commissioned a 2nd Lieutenant in the USAAF and received his wings on December 12, 1941 – just two days after the Japanese bombed Pearl Harbor.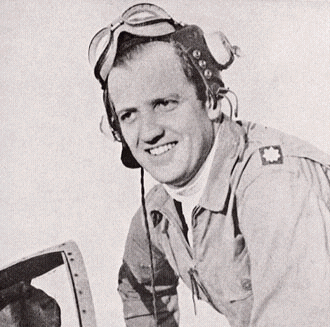 Landers served with the 49th Pursuit Group, 9th Fighter Squadron in the Pacific Theater achieving 6 credited victories against the Japanese. He evaded capture in December 1942 after being shot down and bailing out of his fighter plane near Dobodura, New Guinea.
After a period as a flight instructor in the United States, Landers joined the 55th Fighter Group, 38th Fighter Squadron based in Duxford, England. Five more victories were credited to him during this tour.
Landers flew a series of North American P38s and P51s, all which were named "Big Beautiful Doll." Landers earned the nicknames of "Firewall" and "Big Ass."
The 78th Fighter Group posted an official total of 688 enemy aircraft destroyed either in the air or on the ground with an additional 406 aircraft probably destroyed or damaged. Fifty pilots accounted for over half of these victories. These statistics are based on the claim and credit guidelines established by the 8th Air Force in 1943. 474 of these victories were in the air.
Colonel Landers clearly met the definition of fighter ace, having shot down five or more enemy aircraft. During World War II this definition was refined and required formal verification. First, it had to be established that the pilot was flying his aircraft when the kill occurred. Second, the enemy aircraft must itself be in the air. In general, aircraft destroyed on the ground did not count. (The 8th Air Force did include ground victories in the credit awards.) The enemy aircraft had to be piloted. Captured Allied aircraft flown by the enemy did not count. It was expected that the enemy aircraft was an armed military aircraft. Liaison aircraft were included because it was assumed that someone aboard might be armed.
For a pilot of the 8th Air Force to be officially recognized as a fighter ace, he had to make immediate formal claims and receive a total of at least five credits from the Victory Credit Board. In 1943 the 8th Fighter Command established a board, composed of experienced combat pilots, that reviewed all claims to verify information inflicted to enemy aircraft by its pilots. The Victory Credit Board rendered its decision as to the category of the damage, e.g. destroyed, probably destroyed, damaged, and then awarded the appropriate credit to the pilot. Most American units, including the 78th Fighter Group, also allowed shared victory credits. The 8th Air Force allowed credit for confirmed ground victories. These ground credits were later revoked by the post-war U.S. Air Force, stripping away the "ace" designation for a long list of 8th Air Force pilots.
Landers became Commanding Officer of the 38th Squadron in mid-1944. In the fall of 1944 he became Group Executive Officer of the 357th Fighter Group and also achieved victory number 11. He became Group Commanding Officer of the 78th Fighter Group in February 1945. During his time with the 78th Fighter Group, 3.5 victories were credited to him.
In May 1945 Landers was promoted to Colonel. He became the Group Commanding Officer of the 361st Fighter Group in June 1945.
Landers finished the war with 14.5 victories, plus 20 ground victories.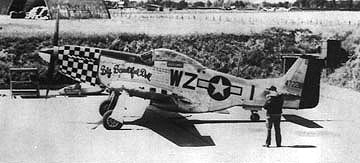 One of Colonel Landers' flying proteges was Chuck Yeager, who flew as Glamorous Glen, and later went on to be a test pilot and the first man to break the sound barrier.
Not much is known about Landers' post-war life, except that he was in the construction management business and moved a lot. He moved to Granbury about 1979.
A year before his death, in 1988, John Landers gave a presentation before a meeting of the Granbury Radio Control Airplane Club and talked about some of his experiences.
Following is the obituary of John Dave Landers that appeared in the Hood County News, on September 20, 1989, page 9B:

JOHN LANDERS 1920 – 1989

John Landers, 69, of Granbury died on Tuesday, September 12 at Hood General Hospital.

Services were held on Friday, September 15 at Greenwood Chapel (Fort Worth). Entombment was at the Greenwood Mausoleum.

Former project manager of Brown and Root Construction, he was one of the youngest Colonels in World War II. He was born in Wilson, Oklahoma. A veteran of World War II he was a U.S. Army Fighter Pilot and a member of the American Fighter Aces Association. He was a member of the Ridgley Presbyterian Church.

Survivors include his wife, Kathyrn Landers of Granbury, daughter, Diana Perry of Fredricksburg; two sisters, Nell McLaurin of Cleburne and Opal Vaughn of Sanger.
John Landers died following complications from surgery. Mrs. Landers has since moved from Granbury to Fredricksburg, Texas.
John Buchanan, of Green Valley, Arizona, was a flight school buddy of Colonel Landers in 1941. Mr. Buchanan recently wrote the Hood County Genealogical Society on July 26, 2000, and stated the following regarding Colonel John Dave Landers:
"He was absolutely an extraordinary guy, among the best America had to offer when we needed them most desperately!"