by Jo Ann Hopper, Daughter-in-Law, 08/06/1999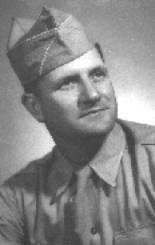 D. C. Hopper – World War II Veteran
Dallas Carvel Hopper was born November 27, 1911 in Jack County, Texas to James Thomas (Jim) and Sallie Estella (Gray) Hopper. He was the youngest of four children including Iva, Ira, and J.T.
Carvel married Bonnie Lee Watkins on August 13, 1932, in Granbury. They had one son, Robert Carvel Hopper, born March 24, 1934.

Carvel's grandfathers brought their families to Texas from Alabama after serving in the Civil War. George Mifflin Dallas and Louisa (Boyd) Hopper came from Cleburne County, Alabama. William Charles Gray and Modena (McCorkle) Gray came from Colbert County, Alabama. Their paths crossed in Jack County, Texas.

Most of the Hopper family moved to Indian Territory (Oklahoma) in the 1890's, but Jim stayed in Jack County for several years before moving his family to Pony Creek in Erath County, then to Dallas and back to Pony Creek, finally moving to Tolar in Hood County in 1926.

Carvel started school at Pony Creek and finished his last year in Tolar High School, graduating in 1929. He always made it a point to attend the Pony Creek School Reunion, the Tolar Homecoming, and the Stroud's Creek Cemetery Working.

After marrying his Tolar High School sweetheart, Bonnie Lee Watkins, daughter of Robert Clifton and Lanora (Carlile) Watkins, Carvel settled in Granbury. He owned the Gulf Oil Wholesale Distributorship and ranched with his brothers.

Carvel sold the Gulf dealership when he went into the U.S. Army in 1945. He was headed to the Pacific as part of the invasion force of Japan. But as fate would have it, the bombs were dropped and the war ended. Carvel was stationed in Manila in the Philippines to deal with cleanup and prisoners. Among his war souvenirs was a painting of a Japanese lady done for him by a Japanese prisoner of war on a cotton handkerchief. The painting is proudly displayed in his son's home.

After Carvel returned from military service, he built a service station in Granbury on West Pearl Street (Highway 377) with a house behind it at 110 South Baker Street. In 1952, he moved to Burnet County to ranch. Later he moved to Lampasas and was the accountant for Lampasas Auction Barn.
Carvel was, throughout the years, involved in ranching, either part-time or full time. He loved the land and stories of the old days. He never tired of traveling across the country, just looking. To him it was all beautiful.

After he retired, Carvel and Bonnie moved back to Granbury and built a house, mainly to be near his brother, J.T., and to help him, as he was in bad health and to be closer to Bonnie's sister Mabel in Ft. Worth. But Granbury was not the town he remembered and after J.T. died, they moved back to Lampasas and built yet another house. The last move was to a Lutheran retirement center in Clifton, Rainbow Village in 1996.
Carvel died of a heart attack on February 23, 1997 in Clifton, in Bosque County. He was buried in Stroud's Creek Cemetery near Tolar.