Contributed by James Dark of Arlington, Texas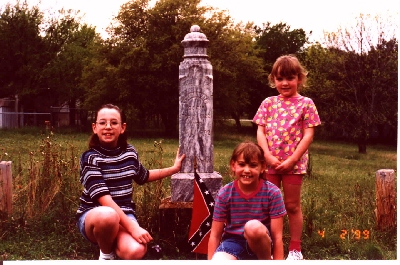 I didn't know much about D. W. McDonald until a week ago.

David W. McDonald (middle name is still unknown)
born 2/14/1822 in North Carolina
died 1/24/1902 in Parker County, Texas
He is buried in a lone grave at 195 Gilbert Street in the Rio Brazos Community (about two miles south of Tin Top) in Parker County, Texas.
I took my daughters out to the grave today to plant a Confederate flag and take their picture with him.

D. W. served in Company C of the 1st Arkansas Cavalry during the Civil War. He arrived in Texas from Batesville, Arkansas in 1877 with a group of several other families. His daughter Martha and son-in-law Strother Ashby Bradley settled in Hood County. D. W. and his wife settled in Blair Valley which is barely across the Hood County line in Parker County. All this time I've been looking in the wrong county.

I finally figured it out with the help of a friend of mine in the Sons of Confederate Veterans.

James Dark is the Webmaster of the Texas Sons of Confederate Veterans