by Kathy Smith, Lifestyles Editor
Hood County News On-Line Edition July 9, 1999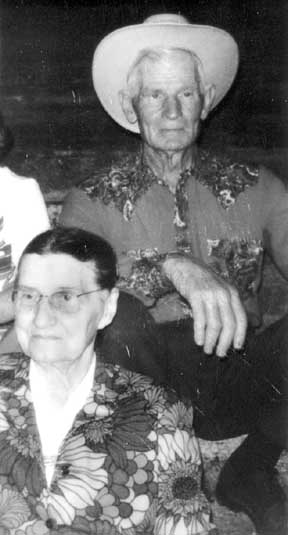 Dug Massey and his sister Earley Massey
He loved fiddle music and could dance a jig like no one else. He liked to make jokes, loved talking about dogs and asked his family for only one thing in his lifetime-to die his way, in the house where he grew up.
On Aug. 29, 1998, Hershell "Dug" Massey died at the age of 88, in the same corner of the same room where he came into the world on Aug. 10, 1910.
His home and the family farm and property will be put up for auction Saturday, July 17 at 9:30 a.m. The historic property-approximately 168 combined total acres-has been in the Massey family for over 100 years.
William R. Massey brought his family to Texas in the 1850s and later to Hood County by 1860.
William Massey made his living and provided for his family by farming the rich, fertile Brazos River land of Fall Creek, south of Acton.
James Elijah (J.E.) was the son of William and his wife Caroline Glenn Massey. James married Fannie Merrifield in the late 1880s and the couple produced 18 children, 12 of whom reached adulthood.
Hershell "Dug" (pronounced 'doog') Massey was the last son born to J.E. and Fannie and lived at the family farm most of his life. Dug never married. His sister Earley, who also never married, lived there as well, until her death in the 1980s. Even after J.E. and Fannie's death, the family farmhouse was a gathering point for many of their descendants.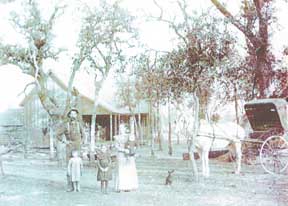 Like his father and grandfather before him, Dug was a farmer and grew corn and peas. He was also the "good neighbor" and always assisted his neighbors in putting in their gardens.
One day in 1993, at the age of 83, Dug Massey parked his tractor, as well as his 1982 Ford truck, due to declining health and never drove them again.
"He was the smartest man I've ever known," said nephew Kenneth Massey, who cared for the elder Massey until he died. "He was the only older person I've ever known who knew when it was time to stop driving. And he just parked that truck and never drove again. He stopped before he had a wreck."
Time and technology flew right past Dug and he was a man of simple means and needs.
"He didn't have air-conditioning in the house until 1996," laughs auctioneer and Massey descendant Donnie Johnson, "and then he never turned it off!"
Dug enjoyed hunting coons (raccoons), possums and skunks. Family members say that Dug could turn any dog into a "coon dog." "He'd use whatever kind of dog he had," says Johnson.
When Dug died, his inheritance-the same inheritance his father before him had received-was passed down to his heirs.
There are 34 heirs to the Massey legacy and they're spread out from Mississippi to New Mexico. Thirty-four people with 34 different opinions as to what to do with the furnishings, property and land. The only thing they all agreed upon was to auction off the property to the highest bidder.
The partial list of home furnishings sounds like an antique shop's inventory list-Murphey bed, a roll top trunk with tray, drop-front dresser wardrobe, Star Remington piano, wooden pie safe, Gone with the Wind lamp, depression glass, 8-piece sterling silver place-setting and a round oak table with leaf and six chairs.
The property and land to be auctioned includes the Massey home place-two metal barns, three wood sheds, a rock cellar and the one-story frame house, which is over 100 years old.
Also included in the sale are three tracts of land totaling over 49 acres with Brazos River frontage.
According to Johnson, "This may be the first and possibly last sale of this kind of family property this old."
Johnson anticipates a lot of interest in the auction, especially among local residents.
After next Saturday's auction, Dug may be pleased to know that his International Harvester tractor that he parked six years ago might once again be plowing rich Hood County land. And who knows, his old pickup truck might, some day soon, have a couple of coon-dogs riding in the back.
© 1999 Hood County News and HCN Online Services. All rights reserved.