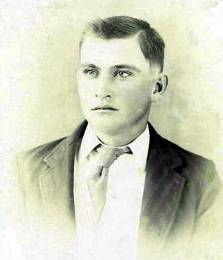 Edward Barry Mullins, the first child of Thomas P. and Nannie E. Mullins, was born into their home at Whitney, Texas, December 25th, 1869. To them this Christmas Day Baby was a Christmas present indeed. The family moved to Granbury with little Ed in the early 1870's. He was so young it is doubtful if he ever had any recollection of life in Whitney, and so he grew up with, his brothers and sisters, in his mind at least, Granbury became his home as it was in fact by birth, in their lives.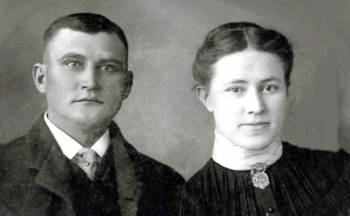 Edward was twenty three years old when his father died, and he had already started his career as a cattleman. Being a good stockman as well as a cowboy who takes care of the stock, all this is not learned in a day. Ed had a good course in this business which became his chosen profession. In it he grew, and developeduntil he was not only a top cowboy, he became a top cattleman. When he was thirty years old he was the manager for an outfit that handled 40,000 head of cattle each year. He was also successful in marrying the daughter of one of the owners, Della Gibson, whom he married October 17, 1897.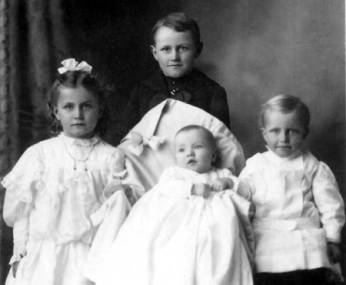 Jettie, Jim, Ned & Lawrence in 1906
 Children of Edward Barry Mullins and Della Gibson Mullins: 

Thomas James Mullins, 1898 – 1979
Jettie Jewel Mullins, 1900 – 1993
Bessie Mullins, 1902 – 1905
Edward Buck (Ned) Mullins, 1904 – 1993
Lawrence Gibson Mullins, 1906 – 1988
Doris Jean Mullins, 1909 – 2004 
The home of Edward and Della Mullins was blessed with the following children: two girls, Jettie and Doris, and three boys, Jim, Ned and Lawrence. Jettie became Mrs. Whitney Rowland, and lives in Coalinga, California. Miss Doris Mullins lives in Weaversville, California. Jim is Thomas James Mullins of Yuma, Arizona. Ned, is Ned Mullins of Fayetteville, Arkansas, and of Sao Paulo, Brazil, South America while Lawrence is Lawrence Mullins of Fresno, California.
Johnnie Mullins went to Wagoner, Oklahoma to be with his brother Ed, in 1898, when he was fourteen years old, and remained with him in that Cowboy University of Hard Knocks for four years, graduating with honors and later he was honored by having his name placed in the Cowboy Hall of Fame.
A few years later, when Joe Mullins was ready for a course in cowboying, he went to be with his brother Ed, in Oklahoma.  Joe also graduated with honors, and used his trick roping and fancy roping, bronco busting, in his life as a border patrol man, rodeo promoter, actor in the movies, and in the development of his family of four into various specialty acts in which all four took part.
John Edward Mullins, son of Thelma Burhus and Lawrence Gibson Mullins, died March 30, 1967. He had one daughter Mrs. Jody Kay Mullins who resides in Clovis, California (1978). Jody is an accomplished horsewoman, training and riding her own horses as well as others.
Edward Mullins died November 29, 1912.