CRESSON CROSSTIES
By Christopher C. Evans
Hood County News – July 17, 2001
KEEPING UP WITH SMITHS NOT EASY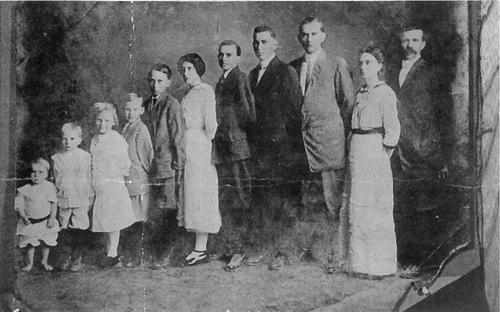 The fuzzy old photograph is an art heirloom few families possess: The nine children of T.B. and Mallie Smith are arranged in ascending age order, from two to 19, from left to right. The parents are at the viewer's right.
The studio portrait was taken in 1914 in some makeshift photographer's lair, location unknown, but by a photographer who was enterprising enough to create what is today a family gem. The backdrop appears to be some type of light-absorbing fabric intended to hold aimed light and give off a gothic starkness.
If Mary Maldonna "Mallie" Cate Smith, the mother of the nine children, appears a little hollow-eyed, it might be because she bore these children in 1895, '96, '98, 1900, '03, '05, '07, '09 and '12. Otherwise, she looks outstanding for a Cresson woman of the time.
The first copy of the Smith photo I saw was brought to a recent Hood County Historical Society meeting by historian-guru Mary Kate Durham, who is actually related to the Smith family.
The old picture is remarkable because of its subjects, all clad in what had to have been their Sunday finest, all but two fittingly stern of countenance and all but one — little Beryl Beauregard Smith — well-shod.
Why little Beryl has on no shoes is not known. The least of the nine, he looks altogether taken by and focused in on the moment. At his side to his left, with a look of mouth-open awe on his face, is older brother Hilbert Edward Smith, who became known as Boss Smith to folks around Cresson and elsewhere.
Next to those two, in up-the-stairs order, are Annie Victoria Smith and Halbert Samuel Smith, seven and nine respectively. They are the only two Smiths pictured with even a hint of a smile.
Shirley R. Smith's history Cresson:Community Crossroads says that T.B. and Mallie Smith came to Texas in 1894 from Tennessee and settled about one mile east of Cresson. T.B. Smith was, the book says, "a well-known farmer of Cresson."
"He worked long hours, sometimes until midnight on Saturday nights but never into Sunday," the book says. "He was a devout Christian, never worked on Sunday, and never cursed."
Not even the time he got smashed to the ground while working on his windmill, a tale relayed by Smith's grandson, T.H. Gunn. "While pulling sucker on his windmill, the block and tackle broke, hitting Mr. Smith on the head and shoulders, knocking him to the ground," Gunn said. "He got up and said, `Mercy-Mercy, Sweet Mercy'." And went back to work.
To attempt to cover all the contributions of the Smith family to Cresson would be futile indeed. Right off the top of the top of my head I can think of these:
Thomas "Herbert" Smith, tallest and oldest of T.S. and Mallie's children, he never married and lived with his mother for several years after T.S. Smith died in 1915, basically running the farm operation. He built the so-called Teich farm house that today is toward the east end of Johnson County Road 917 but was nearer town by more than a mile when he built it. He was noted locally as an accomplished pianist — and for showing up around the Yule season as a certain fat guy in red at the Cresson Methodist Church.
Halbert S. Smith was a farmer who worked at the Burrus Mills in Saginaw for a time and at Leonard's Farm Store. I remember him for being the architect of a Cresson landmark the remnants of which still exist — his farm implement collection, which used to include a couple of steam-fired tractors.
Before I actually knew any of the Smiths I'd heard of the boys' names — Herbert, Hobert, Hubert, Hibert, Halbert, Hilbert and Beryl. The truth, though, is that not all of the Smith boys with H-names went by them.
SIDETRACKS: If anyone, in the Smith family or otherwise, knows who shot the aforementioned picture or where it was taken, please pass along the info and it will be published here…Included in packet of information Dillard Crook assembled for a story on his great-grandfather, Wiley M. Crook, is a Dec. 20, 1900 note for $238.50 made out to the Exchange Bank of Cresson, Texas, from Wiley M. Crook's son, J.S. Crook. The check was a loan to the bank, like a certificate of deposit today, entitled J.S. Crook to 10 percent interest per annum "and 10 percent on the PRINCIPAL and INTEREST in case this note is sued upon or placed in the hands of an Attorney for collection"…Being a tennis buff I found it interesting that the schoolyard at the Cresson School once had a dirt tennis court as well as basketball and baseball field. Further, the school actually fielded a netting team for several years. Now comes boxing: One of Dillard Crook's unfondest memories was being knocked silly by classmate Junior Masterson in a classroom at the Cresson School. "Boxing was one of the things we did in the school back then," Crook recalled. "They'd let us box in one of the classrooms." Crook said agreeing to poke it out with Masterson, a skilled pugilist who went on to Golden Gloves acclaim, was ill-advised. "Junior was quick and he'd had training and he got me pretty good," he added.
DERAILED: Plans for an incorporation election in Cresson Aug 11. As it turns out, survey requirements and validation of registered voters on the petition to incorporate were not completed satisfactorily in time for an Aug. 11 election. Thus, the earliest election date available may be in October or, more likely, November. Therefore, the meeting of the Committee to Incorporate set for tonight at the school has been postponed until 7:30 p.m. next Tuesday, July 24, at the Cresson School. The meeting is open to the public.