DON'T YOU TELL MY MOTHER
Submitted by Virginia Hale, Granddaughter of Thomas C. Hale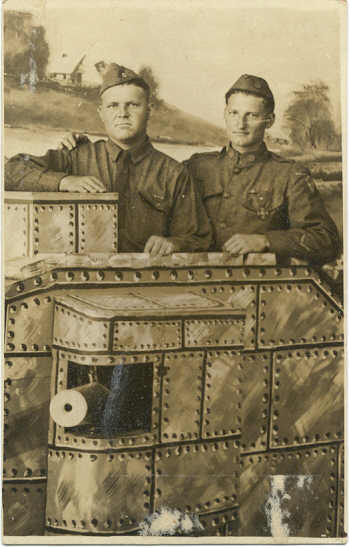 A World War I PostcardLeft: Private Thomas C. Hale
The following letter was written from France on October 23, 1918 by Thomas C. Hale, age 27, Private, 111th Ammunition Train, American Expeditionary Force. Private Hale enlisted in the U. S. Army on May 6, 1918 in Granbury, Texas. Tom was from Lipan and was writing to his friend in Lipan, Miss Myrtle McCuan.
France10-23-18 Dear little Mirtle How are you by now. The leaves are dust. I hope you the same. Say little Mirtle what in the world has gone rong with you. I have not had a letter from you since hear I been. Not since I left U.S.A. Why don't you write me. Tell me all the Hood Co. news. Now I tell you a letter shur does look good to a fellow over hear. What is going on. A sound there. Are you all going to have any Xmas over there. Can't tell yet what just what we will be doing but ges we will have a big time. I mean it is busy at times. You have got to learn to dodg bullets an be cearful. Over here. I have ben quiet busy the last few days – dodging McChine guns, hangranades, shrapnels, an airplanes bulets. But at that it is all funney after it is all over but I had begin to think the other day that my fun was all over. Something hit clost to me an busted an made a turble racket an throde much in my eyes. But I dodged it. You can guess what it was but don't you tell my mother nothin about that caus she would vow I had been killed by now. Say Mirt, how is my Mother getting a long. Any different? She take it hard when Guy [Tom's brother] went to Camp A? Mirt – you ring her an tell her I am getting a long just fine and will be home next summer in time to eat peaches. Wish I had a big old peach now.I may stay over hear a while after the war. Say I would give every thing to send you a picture of my house, a dugout which hear I have. I know you would laught at it but it is shure warm. Got me a little German stove in it.Well Mirt, I will close for this time. So write me worse in a while and tell me all the news. I am as ever yours.Thomas Hale Co. D. 111th Am. TN American E. F.A.P.O. 796

OK. J. P. Doyle, 2nd Lt.