1853 – 1920
by Jo Ann Hopper
Lewis Edmond Carlile Family ~1891
Lewis Edmond Carlile was born February 23, 1853 in Pike County, Alabama to John Carlile and his second wife Gracy Caroline Carnley. During the winter of 1840-41, John's first wife Jane Moon had died and left him with seven young children. On August 6, 1841, John married Gracy Caroline Carnley in Troy, Alabama. They lived near the present location of Goshen, Alabama, then known as Goshen Hill. Both the Carnley and Carlile families had come to Alabama during the 1820's from the Lexington District, South Carolina.
Living in the Carlile household in 1850 were John, age 47, born in South Carolina; Caroline, his wife, 30, born in Alabama; Jesse S., age 21; Samuel, age 17; Nancy Jane; John W, age 14; Mary, age 13; and Edward, age 11. (Robert, John's oldest son, married Sarah Luvenia Carnley, a cousin of Gracy's, and they were living on an adjoining farm.) These were the children from the first marriage. From the second marriage were Leonard, age 9; Needham, age 5; Baisal (Barney), age 5; and Sarah Jane, age 2.
Two more children were born to John and Gracy: Mary Ann, 1851 and Lewis Edmond, 1853. In 1853, John Carlile died and an estate settlement was recorded in the Probate Office in Troy, Alabama. At the time of his death, John Carlile had been a stable resident in the same community for at least twenty-five years.
After his death, family members began to scatter. Gracy and the younger children moved several times, usually staying fairly close to the oldest son, Robert and Gracy's cousin. Most of the children served in the Civil War; several survived, including Robert. Lewis Edmond probably did not serve, as he was quite young.
Some time after the war, Lewis Edmond came to Cass County, Texas with his mother Gracy and older brother Robert. He married Mary Eldora Pierce in Cass County, December 26, 1872. She was born October 15, 1856 in Bell County, Texas, a daughter of Bird Pierce and Sarah Elizabeth Scoggin.
Lewis Edmond Carlile moved his family to the Hood County area. (The 1880 census records him in Johnson County.) His daughter Lanora (Nora) remembers moving to a farm near Tolar when she was around seven years old; she was born in 1881.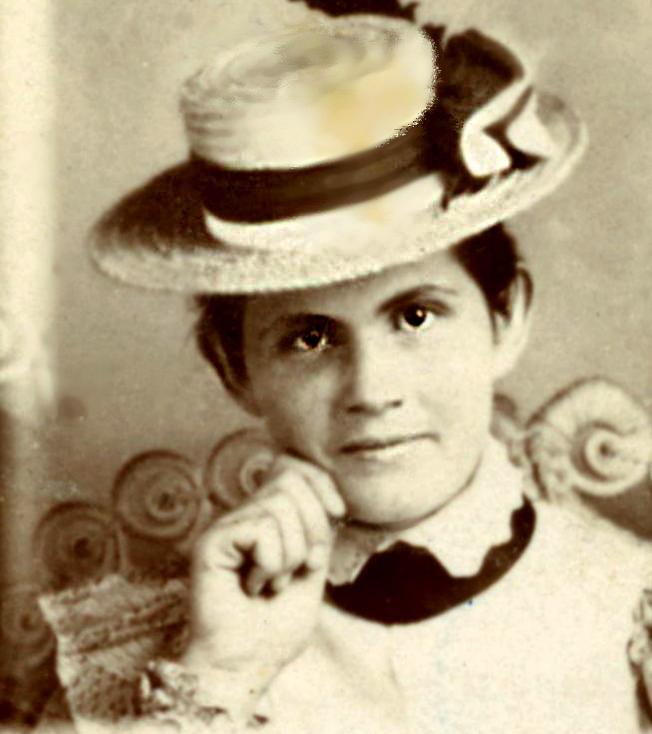 Nora Carlile of Tolar, Texas
Lewis Edmond and Mary Eldora Pierce Carlile had seven children:
– Thomas Leonard Carlile was born August 8, 1875 and died September 12, 1900 and was buried in Strouds Creek Cemetery in Hood County, Texas.
– Allen Lafayette Carlile, born October 31, 1878, married (1) Lorraine Theobald and (2) Ella Florence White. He died January 15, 1956 in Bronte, Texas.
 – LaNora (Nora) Carlile, born March 17, 1881, married Robert Clifton Watkins, November 8, 1896. They reared their family in Tolar, Texas. Nora died April 12, 1980 in Lampasas, Texas. She was buried in Strouds Creek Cemetery in Hood County, Texas.
– Lewis Wesley Carlile, born June 6, 1883, married Cora Isabella Seay and died in DeLeon, Texas, January 27, 1956.
– Ida Carlile, born March 25, 1886, married John Osgood and died June 12, 1903 in Bronte, Texas.
– Enos Eugene Carlile, born November 14, 1889, married Lois Emeline Wright and died October 9, 1969 in Snyder, Texas.
– Edgar Carlile, born February 25, 1893 lived only a short time and died June 14, 1893. His mother Mary Eldora died March 26, 1893 and both mother and child are buried in Strouds Creek Cemetery in Hood County, Texas.
Lewis Edmond's mother, Gracy Caroline Carnley Carlile, died July 28, 1895 and was buried near the other family members in Strouds Creek Cemetery in Hood County, Texas.
In December of 1893, Lewis Edmond married a widow, Rachel Clark. They had one son, Bird Linville Carlile, born October 20, 1900. Around 1900 the Carlile family left several family members in Hood County, Texas and moved to Coke County, Texas. Rachel Clark Carlile died March 18, 1905 in Ira, Texas. Lewis Edmond Carlile died February 28, 1920 and was buried in Ira, Texas many miles from Pike County, Alabama.