AMULET SCHOOL 1896
&
TOLAR PUBLIC SCHOOL GROUP 1899 & 1900
From the Collection of O. B. Powell (1889-1959)
Contributed by James P. Barrett
O.B. Powell was a grandson of W.G.W. Powell. James P. Barrett is a great-great-grandson of W.G.W. Powell. The information was given to him by Nancy Elizabeth Powell Bowen, a daughter of O.B. Powell.
POWELL INFORMATION
Wm. George W. Powell b: October 27, 1817 in Columbia County, Georgia; d: September 02, 1897 in Hood County, Texas; Burial: Amulet (Powell) Cemetery, Hood County, Texas; Residence: 1850 Boone Township, Scott County, Arkansas+Adarine Jones b: August 09, 1822 m: November 25, 1838 in Columbus, Muscogee County, Georgia; d: December 12, 1892 Burial: Amulet (Powell) Cemetery, Hood County, Texas
Lewis Jasper Powell b: October 19, 1852 in Scott County, Arkansas; d: January 25, 1921; Burial: Spur Cemetery, Dickens County, Texas+Malissa Roseanna Jones b: December 18, 1856 near Little Rock, Arkansas; m: August 07, 1873 in Hood County, Texas; d: September 17, 1928; Burial: Spur Cemetery, Dickens County, Texas
Oscar Bernard Powell b: February 23, 1889; d: September 21, 1959; Burial: Moore Cemetery, Arlington, Texas
---
The lists attached to the pictures were typed. Some of the names are hard to read.
---
AMULET SCHOOL 1896 MY FIRST SCHOOL
[All comments are those of O.B. POWELL]
This school was located on Squaw Creek near the Powell home. It was located some 1 and 1/2 miles East of where Tolar, Texas is now located.
Front Row Standing. The TWO BOYS holding the slate with the BUSTER BROWN bow ties and the striped shirt waists are, left to right VERNON POWELL and O.B. POWELL. The third boy in the white waist is Bob Byrum, I think.
Second Row standing, left to right, REED WEST, JOHNNIE TUCKER, — FARMER, TINNIE POWELL (My cousin), ETHEL BYRAM, FREMAN PERRY, MAURA WEST
Third Row, Miss Ellen Hightower, the teacher, GERTRUDE POWELL (My youngest sister), DORA DUNNAWAY, BERTA FARMER, LAURA HUFSTEDLER, CALLIE POWELL (My middle sister), not recalled
Fourth Row, MYRTLE TUCKER, CHARLEY HUFSTEDLER, OKLA FARMER, EDGAR TUCKER
Last Row, Next to wall, ALVIN HUFSTEDLER, JION HENNARD, RANDOLPH POWELL (A NOTHER COUSIN OF MINE), ROSCOE POWELL (Another cousin)
I was seven (7) years old and my brother Vernon was five (5) year old. Vernon had not started to school at the time. My father was a trustee at Amulet, so the teacher wanted him (Vernon) to be in the picture. (There were 24 in the school, not counting the teacher).
---
TOLAR PUBLIC SCHOOL GROUP – 1899
Marion McIlroy, Superintendent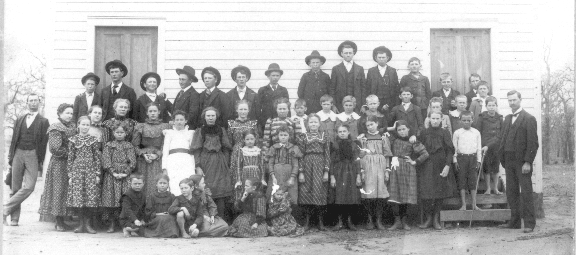 First Row, Seated
Paul Hufstedler
Nettie Lockhart
Vernon Powell (my brother Vernon about 7 years old)
Irene Dunn
Lena Stalcup
Not recognized
First Row, Standing
Myranda Kerr
Dora Dunaway (Baker)
Not recognized
Not recognized
Funice McGuire
Myrtle Denning
Callie Hufstedler
Mae Nutt
—— Denning
Bob Bain
Second Row, Standing
Gertrude Powell (My youngest sister)
Maud Rich
Laura Hufstedler
Linnie Hennard
—— Bain
Nora Denning
Myrtle Kerr
Maud McIlroy
Barnard Lockhart
Joe Kerr
Tom Kerr
Virgil Hufstedler
Lee Lockhart
Nath Davis
Chester Denning
Olan Parrish
O.B. Powell (10 years old)
Back Row, Standing
Edgar Thomasson (not a pupil but with the photographer)
Vilas Fitzhugh
Mel Cherry
Arthur Nutt
John G. Hufstedler
Okla Farmer
Norman Cherry
Freman Perry
Guy Hufstedler
Alvin Hufstedler
Tom McIlroy
Roscoe Powell (My cousin)
Charles Hufstedler
---
TOLAR PUBLIC SCHOOL GROUP – 1900
W. L. Powell, Co-Principal with Marion McIlroy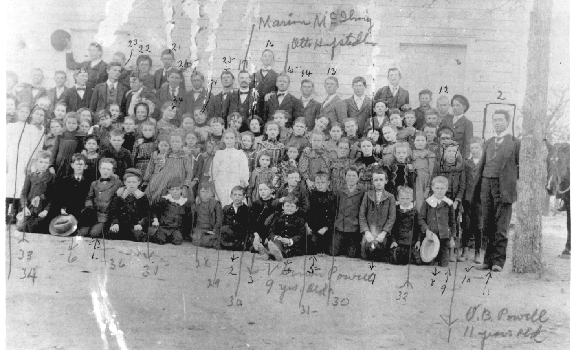 Only a few whose names are listed are identified as shown. There are many others that I can pick out but for lack of room to designate them. The school had two Principals that year as stated above. My brother, W. L. Powell was the head Principal with Marion McIlroy as second Principal but to avoid jeolosy the school board called them Co-Principals.
Nath Davis
Roy Ginn
Vernon Powell (My brother Vernon about 8 years old)
Arthur Ginn
Paul Hufstedler
Lee Lockhart
Floyd West
Jhock Kerr
O. B. Powell (Then 11 years of age)
Joe Kerr
Walter L. Powell, Head Principal with Marion McIlroy as stated above
Charley Hufstedler
Harley Cherry
Judson Miller
Otto Hufstedler
Lottie Nutt
Marion McIlroy, second Principal
Freman Perry
Vilas Fitzhugh
Zion Hennard
Myrtle Kerr
Melvin Cherry
Okla Farmer (note by Jim Barrett – two names are numbered 25)
Jim Bowers
John G. Hufstedler
Lena Stalcup
Myranda Kerr
Maura West
Lloyd Wright
Tom Kerr
Gertrude Powell (My sister Gertrude)
Laura Hufstedler
Maud McIlory
Callie Hufstedler