The Will Rogers of Hood County
Hood County News On-Line Edition August 4, 1999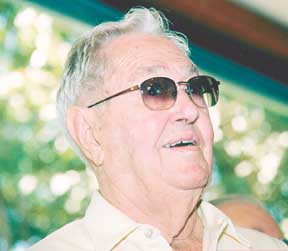 Pig Williams was pleasantly surprised when family and friends celebrated his 90th birthday Saturday night. Williams has lived in Granbury since 1911.
Pig Williams 'wallers' in birthday bash
by Kathy Smith, Lifestyles Editor
Happy Birthday Pig!
Elton Garland "Pig" Williams, the Will Rogers of Hood County, turned 90 on Sunday and was surprised by a host of family and friends who gathered at a local restaurant to celebrate his birthday.
"I was so surprised," exclaimed Williams, "that I almost had a heart attack!"
Williams was born July 31, 1909 in Lubbock. He and his family moved to Hood County in 1911.
Williams said he was the youngest of his "tribe" of four brothers and one sister. Being the youngest, Williams was sometimes strapped with the lesser of the chores around the family farm.
"My brothers would drive the hogs through the barn," recalls Williams, "and my job was to make sure the pigs didn't stop and eat the corn we had in there.
"They started calling me the 'pig-minder' and after awhile I became known as just 'Pig.'"
Williams' friendly nature and good humor served him well while he was in business on the Granbury square. He owned Williams' department store for thirty years. He readily admits to not making much money while in business, but it's a fact that Williams doesn't mind.
"I didn't make any money, but I'm still here! The other store owners (that were in business at the same time) are up on the hill, pushing up daisies," laughs Williams. "I didn't make much money, but money doesn't make you healthy, does it?"
Williams has seen a lot of changes in Hood County during the last 88 years. Land prices are one change Williams has seen the biggest change.
"My brother bought land on the river past the Stockton Bend part of town," recalls Williams. "He paid $40 an acre. Then, he sold it for $45 an acre. Now, I hear, they're getting close to $100,000 an acre down there!"
But Williams clearly does not place much importance in money. On a wall in his house is a plaque that states his feelings, "Money isn't everything, but it sure keeps the kids in touch!"
Bill Martin of Granbury has known Williams for "as long as I've been alive."
"Pig's been a close friend of the family for 60 to 70 years," stated Martin.
As a resident interested in local history, Martin appreciates the knowledge Williams possesses.
"He's a great resource of history and has some really great stories," says Martin. "He has a very keen memory and a lot of insight.
Martin also relishes Williams' business experience. "Chances are, Pig has experienced every situation possible in the business world," Martin says, "and he knows how it'll turn out!"
Williams has the gift of gab and seems to have never met a stranger. When talking to acquaintances on the phone, Williams will inevitably ask, "How do I look?" When told that he is indeed looks great, Williams replies, "Well, so do you!"
Flora Reed of Hood County appreciates Williams's good-natured personality. "He likes to talk," laughs Reed. "In fact, if anyone will stand still long enough, Pig'll talk to them!
"Pig loves to have telephone salesmen call him. He'll talk to them so much they get tired!"
Reed has known Williams' all of her life and has the same regard of him as hundreds of other people who have had the pleasure to know him, "He's just an all-round good guy."
Copyright © 1999, Hood County News and HCN Online Services.