Couple blessed with 70 years of happiness
by Kathy Smith from Hood County News On-Line Edition April 17, 1999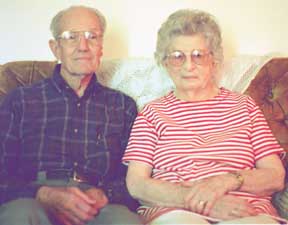 Robert and Dora Newton say their secret is taking 'care of each other'
What your mother told you about breakfast being the most important meal of the day is true. Robert Newton says that's one reason he and wife Dora are so healthy and fit.
The eyes of the beholder lie when looking at the Newtons. You think you're looking at a couple in their 70s, but Robert is 91 and Dora is 89.
The Newtons will celebrate their anniversary on Tuesday, sharing a spirit and love between them as strong as the day they wed, 70 years ago.
Dora's father, Will Carney, came to Hood County in 1884, riding horseback from Georgia when he was 12. Dora and her six siblings were born in Hood County, south of Tolar.
Robert was born in Coryell County and, after graduating from high school in Clyde, received a scholarship to Tarleton Junior College in Stephenville. There he obtained his teaching certificate.
After a time teaching at Buckholts, southwest of Temple, Robert returned to Tarleton for the summer session.
Also attending Tarleton was a graduate of Tolar High School – Dora Carney. The "boys of Tolar" attending Tarleton introduced the two and, the rest (they say) is history. They married a year later in 1929 and were teaching together at a school near Hico the following fall semester.
During the early 1930s, the Newtons taught at Hays College, which was a grade school southeast of Tolar, then later in nearby Hill City.
Both Robert and Dora's memories are good, recalling places they've lived and the interesting things they've done during their 70 years together—working as teachers, principal, sheriff's department dispatcher and radio and communications instructor during World War II.
It was in College Station during the war when Robert taught Morse Code to the soldiers. At one time, Dora was hospitalized for minor surgery and Robert was forced to take their daughters, Ann and Nell, to work with him.
"These boys had to sit for hours with headphones on their heads, listening to the Morse Code," recalls Robert. "Ann was about 6 years old at the time. She put one of the headphones on and proceeded to decipher the Morse Code! She had heard it so often at home when I studied that she picked it up herself. Boy, were those soldiers impressed!"
The Newtons returned to Granbury in 1973 after Robert retired, to be close to their family. Idleness does not hold a place in the Newtons' lives. They tend to themselves, their home and their yard, which is brimming with lush plants and a beautiful array of deep purple irises.
They are active members of First Baptist Church and Robert is a founding member of the Hood County Genealogy Club. He was also instrumental in the restoration of the historic Granbury Depot. A beautiful hand-tooled cross-stitched picture of the depot hangs in their front hallway, given to them by a family member who understands their love of the old building.
The Newtons will be honored with a celebration today at their daughter Ann's home, from 2 – 5 p.m., but they're a little concerned about the time—that's when they usually take a nap.
After 70 years together, what is their secret to wedded bliss? Dora explains, "We take care of each other. A nurse couldn't do any better."