by Kathy Smith, Lifestyles Editor
Hood County News On-Line Edition – February 16, 2000
Law and Honor
Bandera constable recalls family life in Hood County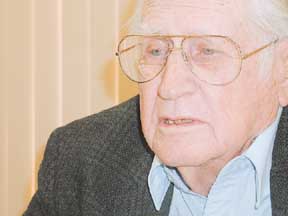 William Ellis of Bandera was born in Granbury in 1918. His grandfather, Charles Locklin, was marshal/jailer of Hood County jail in the late 1800's.
The cells upstairs were too quiet. Hattie Locklin, the jail cook, knew there was a prisoner upstairs, but she hadn't heard any noise coming from the cells. She decided to investigate, so she climbed the steep stairs of the Hood County jail to see what was going on.
As she topped the stairs, the prisoner—who had heard her coming—peeked around the corner and yelled, 'Boo!'
"My grandmother said she almost fell down those stairs," laughed William Ellis of Bandera.
His grandmother Hattie Locklin, was the wife of Hood County marshal and jailer Charles Locklin who served the people of Hood County in the late 1800s.
Locklin and his family, including wife Hattie and daughter Ora, lived in the old Hood County jail. As was the case in those times, Hattie cooked for the prisoners.
Ellis followed in his grandfather's footsteps. He retired in December from a life in law enforcement in southwest Texas.
Ellis, 81, is spending his retirement tracing his family tree and all roots lead the strong octogenarian back to Granbury.
Both sets of Ellis' grandparents lived in Granbury in the late 1800s. His grandmother, Lydia Corley, married Robert Patton Crockett, son of Alamo defender Davy Crockett. She brought with her to this union, three children, including Ellis' grandfather Charles Locklin.
Ellis was born in Granbury in 1918 and has vivid and colorful memories of the simple times.
"Dan Cogdell (founder of First National Bank and the first car owner in Granbury) gave me and my brother our first car ride," Ellis says. "We were barefoot and the sandy soil was hot on our feet. Mr. Cogdell stopped his car and gave us a ride home. That was exciting." [Note: The first registered car owner in Hood County was Earl Cogdell, father was D.C. (Dan) Cogdell. See Hood County Vehicle Registrations 1907-1917.]
Ellis also remembers his first elevator ride in a hospital in Fort Worth.
"I was 'mad dog' bit when I was 3," Ellis remembered. "The rabies vaccine had just been invented and I remember that long needle." Ellis had the series of 21 serum injections, which were later administered by the Ellis family doctor.
"Daddy always said he never paid the doctor for delivering me when I was born," laughed Ellis. "I cost them $15, but they never paid the doctor!"
He lost his "baby" status in the family when he was three and a half years old and his little sister was born. He admits he didn't take kindly to losing the "closeness" of his mother. When his mother asked him what he thought of his new baby sister, Ellis informed her that he was "going to get a rock and hit her (his sister) in the head!"
Ellis made a living fighting crime in south central and southwest Texas. He was deputy sheriff for Bexar County—stationed in San Antonio, and was investigator for Balcones Heights. He and his wife Lynn now live in Bandera where Ellis was constable for close to three terms. In his last contested race, Ellis won over three opponents by 64 percent of the votes.
Several organizations have honored Ellis for his bravery and commitment to the citizens of Bexar and Bandera counties. Wife Lynn says there have been numerous lives saved by Ellis.
A gentle giant of a man, Ellis stands a sturdy 6 feet tall with soft blue eyes that give just a hint of the no-nonsense standards possessed by Ellis.
He is a lawman of the old school and doesn't have much use for the "new methods" of today's law enforcement officials.
Just a few months before his retirement, Ellis was called to a hostage situation in Bexar County. An armed man held officers at bay, threatening to kill any one who came up to the house with a gun. Ellis calmly walked up to the house, stopping before stepping up on the porch.
"You don't push a person all the way," says Ellis, "so I stopped and asked him to come out and talk to me."
The two talked awhile and Ellis succeeded in having the man lay his weapon down by saying, "Please don't point that gun at me, I'm an old man."
Ellis told him to put the gun down and come with him, which the man did. However, as the two calmly walked toward Ellis' squad car, four deputy sheriffs "jumped" the man and took him to the ground before cuffing him. Ellis apologetically looked at the man and shrugged.
Ellis thinks his approach to upholding the law is much like his grandfather's was in Hood County over 100 years ago.
"I never waited for back up," says Ellis. "I just grabbed my shot gun—that was my back up."
© 2000 Hood County News and HCN Online Services – All Rights Reserved