A Granbury tradition for nearly half of a century
by Jennifer Pilcher-Roy, Staff Writer
Hood County News On-Line Edition – March 8, 2000
"Will you marry me?"

A young man was looking to ask this eternal question to his girlfriend, but wanted the perfect time and place.

Finally it came to him like a lightning bolt. They both loved going to the drive-in movies. Why not make a trip to the Brazos Drive-In in Granbury and ask her there?

The man approached drive-in owner Jennifer Miller just before the start of the double feature.

"He told me he was going to ask his girlfriend to marry him and he needed my help," Miller recalls. "He wanted to know if there was any way we could put his proposal up on the screen during intermission. We had no way to help him, but I do know he went ahead with the proposal and she did say yes!"

The venerable drive-in theater on Granbury's west side has had its share of romantic moments during its storied 48-year history.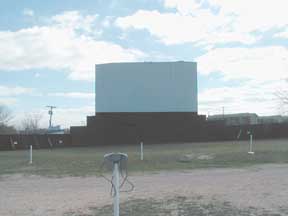 The drive-in is considered to be somewhat of a "passion pit" to many Granbury residents. On more than one occasion employees have had to interrupt couples during romantic interludes.

Drive-in theaters started popping up across America in the early 1950s. Granbury's piece of Americana was built on the city's far west side in 1952.

After that Granbury was never the same.

For almost half a century families, teens and even the occasional out-of-town guest have been enjoying the outdoor atmosphere of a movie.

Jim and Margo Johnson owned and operated both the Palace Theatre downtown and the Brazos Drive-In until the mid-1970s when they lost their lease on the Palace and closed its doors forever.

In 1975, the Johnsons opened the Brazos Cinema next door to the drive-in. They used adjacent land to build the long, narrow theater. The cinema closed its doors this past January after a steady decline in business.

The family maintained ownership of the drive-in and cinema until 1986 when Stephen and Jennifer Miller of Granbury became the new owners of the theaters.

"I can still remember the first movie we showed at the drive-in," Miller said. "Back to the Future. You should have seen the people's faces. The Johnsons had shown the movie at the walk-in, but never at the drive-in. Seeing that kind of nostalgic movie at a drive-in, well, it just kind of fit."

This Friday night the Millers will begin their 15th season. After a seasonal closing the gates will re-open just before dusk.

Only 575 operational drive-ins remain in the U.S. Nine are in Texas. That's quite a decline from the 1950s and 1960s when some 475 drive-ins were in the state.

Some small towns similar to Granbury had two drive-ins, one on each side of town. "Some people have built new drive-ins," Miller said. "They just don't seem to have the same feel to them. It's kind of like walking into an old house with the creaking wood floors, the love and the laughter. When you build a new drive-in, it's like trying to make up the memories."

The Millers had a close call in May of 1989. Fierce thunderstorms and tornadoes that rolled through the area one Thursday night causing extensive damage to Oak Trail Shores also damaged the drive-in.

"We didn't know what to expect," Miller said. "We lived in Acton at the time, and I remember the dread going through my heart during the drive into town."

Amazingly as they drove down Pearl Street, the Millers realized that the old screen had survived the storm. The screen stood out like a beacon amid the tumbled fence and torn sheet metal.

The Millers had to close the drive-in for about two months while repairs were made to the ticket box, screen and snack bar.

The fence around the drive-in also had to be replaced. Some of the original pieces were never found.

The Millers had owned the theater for just three years when the storm threatened their dream. "We were lucky," Miller said. "With everything that happened in this town that night, I feel that we were extremely lucky."

During the off-season this year, the Millers added storage and office space to the back side of the snack bar. Yes, greasy cheeseburgers and fresh popcorn will still be dished out.

Another improvement is central air conditioning.

"For years people have asked us how we stand the heat in the snack bar," Miller said. "We always chalked it up as part of the job. Well this year's going to be great, nice and cool. Now we won't dread the long, hot summer months."

The Millers also plan to purchase a new marquee.

"The sign will similar to the one that was destroyed in the storm 11 years ago," Miller said. "It will have the old raised red letters."

During its 48 years the drive-in has never closed. "We do close seasonally just because business slows down so much during the winter months," Miller reported.

Last week the History Channel was in town filming a segment on drive-ins. The Brazos was the only theater they visited in the United States. While the cameras were filming two Englishmen stopped by to visit.

"They just drove by and dropped in to say hello," Miller said. "They had never seen a drive-in before. They wanted to know everything about the projector, the sound system, the screen, you name it."

New Granbury area residents also express amazement when they hear that the town has a functional drive-in theater, Miller said.

The drive-in is open weekends March through October with the occasional weeknight showing during spring break and summer vacation.

This Friday has become an important date on the calendar for the Millers and their six employees.

"We are looking forward to a great season," Miller said. "The drive-in is a great place for families to come and enjoy the movie."

Crying babies and screaming children add to the charm and memories of the theater, she said. "We want this to be a place that you and your whole family can enjoy," Miller said.

On any given weekend night the cars will begin to line up for the drive-in a couple of hours before the show begins. When the gates open 30 minutes before show time, the line generally reaches the county annex buildings blocks away.

After the wait to get in, the wait at the snack bar begins. The air is filled with the scent of fresh popcorn and sizzling hamburgers. They also serve the traditional movie goodies such as malt balls, hot tamales, pickles and nachos. Oh, and don't forget the fountain soda.

The drive-in has been a local tradition for nearly 50 years. Generations of children and teens have attended the movies with their families and friends. The legacy will probably continue for as long as the Millers own the drive-in.

"We have no plans to sell the drive-in," Miller said. "It's a part of Granbury history."

© 2000 Hood County News and HCN Online Services – All Rights Reserved