Hood County News On-Line Edition June 18, 1999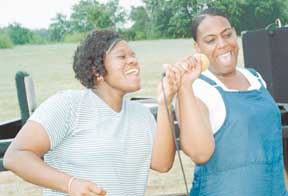 Fort Worth residents Angie Jackson (left) and Denise Shaw sang up a storm Saturday during the Juneteenth celebration at the historic The Colony Cemetery. The two were singing along with soul music played as part of the celebration's entertainment. Jackson and Shaw are descendants of people who lived in the historic black community called The Colony between Granbury and Tolar. The last resident moved from The Colony in the 1930s, say historians.
The weather was mild with pleasant breezes Saturday as Hood County residents celebrated Juneteenth at the site of historic The Colony Cemetery between Granbury and Tolar.
It was a far cry from last year's 100-degree plus temperatures and scorching winds. The celebration was the second Juneteenth to be held in 60 years at the site of the historic black community. Participants enjoyed enormous helpings of barbecue, beans and potato salad.
To top off the meal, they were treated to Dutch oven peach cobbler and pineapple upside down cake prepared by chuck wagon cook extraordinaire Homer Robertson. There were also games of dominoes, ring toss and karoke to entertain the crowd.
Copyright © 1999, Hood County News and HCN Online Services.