by Kathy Smith, Lifestyles Editor
Hood County News On-Line Edition 23 April 1999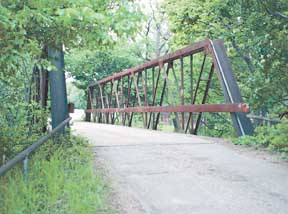 The old bridge on Old Bridge Road is one of two remaining iron bridges in Hood County
Troubled bridge over water
Traveling the hill country roads of east Hood County
I started my drive on an overcast and windy morning, and slipped in my cassette tape of the theme from "Lonesome Dove." I highly recommend this for background music, or at least something like it. Once you're on the route, you'll understand why. I could almost picture Gus and the Captain stopping along the way to rest a spell and enjoy the view. Hope you enjoy the view as well!Acton (Fall Creek Hwy.) – Cleburne Rd. – Godley Rd. – Old Bridge Rd. – Cleburne Rd. – Massey Rd. – Fall Creek Hwy. – Matlock Rd. – Fall Creek Hwy. —Approximately 13.6 miles.
Start by heading east on Cleburne Hwy. at Fall Creek Hwy. Go one mile and turn left on to Godley Rd.
This is a beautiful stretch of road with wildflowers growing on either side. Look in your rear-view mirror and catch a glimpse of Comanche Peak. You'll soon come to a fork in the road—veer right onto Old Bridge Rd. Continue straight on Old Bridge Rd. until you come to– the old bridge!
This old bridge, crossing Fall Creek, is one of only two remaining iron bridges in Hood County. Its future will be discussed during the county commissioners' court, Monday morning at 9 a.m.
Commissioners are faced with two options—tear it down and build a new, sturdier bridge or close the old bridge to vehicular traffic and save the historic aspect of the bridge.
Julian Massey of Granbury knows the Fall Creek area very well. His family has lived here for over 140 years.
"A butane truck fell through that bridge about 20 or maybe, 25 years ago," recalls Massey, "but they did a very good job at rebuilding it."
After crossing the bridge, our route takes us left on Cleburne Hwy., but be careful. This is a dangerous intersection.
Down the road a bit you'll pass the Station Branch Ranch. Quite an impressive spread! Notice the old log cabin near the highway.
We now turn right onto Massey Road. This too is a beautiful drive with rustic country houses and a "mansion" or two thrown in. Please note (and obey) all "no trespassing" signs, by the way!
Turn right on Fall Creek Hwy, but don't turn too fast. You'll want to stop the car and look at this beautiful view of Fall Creek, here at the crossing. Massey has fond memories of the creek.
"On the first day of April, we'd play hooky from school and go swimming in the creek," says Massey, who at 72 still has a mischievous chuckle telling the tale. When asked if they got caught he replied, "You betcha, every year!"
Then, going west on Fall Creek Hwy. you'll come upon the remains of the Fall Creek Schools. Unfortunately, graffiti artists have had their way with the ruins.
Across the road is Fall Creek Cemetery, final resting place of many of the area's founding families.
Further down the road is the entrance to El Tesoro Camp Fire Camp, on the left. However, we're going to turn right onto Matlock Road.
This pretty little lane will bring us out at Fall Creek Hwy., just south of deCordova Country Club, and finally back to our starting point.
Hope you enjoy the ride. Next month, it's north by northwest!