From Notes by Betty Jane Kimbrow Porterfield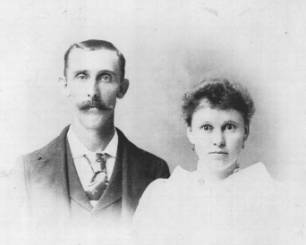 Annie Belle Reynolds & Robert Lee Milhollin
Annie Belle Reynolds was born in Reno, Arkansas, October 12, 1871.  She was an only daughter of Jonnie Reynolds and America Jane Iles.  Her father died when she was one year of age.  Her mother re-married M.R. Hale and had three daughters and four sons.
Annie Belle married Robert Lee Milhollin August 12, 1894.  They had seven children.  Mildred died at birth.  Quinton was killed in January of 1909.
Annie Belle Milhollin died in Port Neches, September 29, 1949 at 2:25 p.m. Was buried at Lipan, October 1, 1949 at 3:00 p.m. October 1st was on Saturday.