by Pete Kendall
Hood County News – August 6, 2004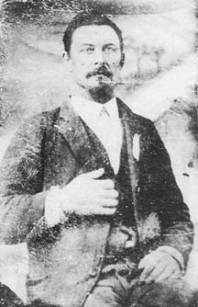 Rev. Leander Painter
ROCK CHURCH – Leander Painter loomed large in life. We know this because of his photograph … piercing eyes, powerful neck, pack-mule hands. It's conceivable he looms large in death, too, watching over permanent residents and guests near where he once preached the gospel to attentive flocks.
The once-thriving community of Rock Church.

"I was here at the cemetery one day pouring concrete to set up stones," Painter's great-great-grandson, Preston Furlow, said. "I heard a church bell.
"It sounded like it was coming from here, but there's no church bell close enough to Rock Church to hear."

Closer to the Painter lot, he said, "I've seen shadows move from the corner of my eye. That might give me the willies if I were out here knocking over headstones.

"But I'm not here to do evil. I'm here to do good, so those things are kind of comforting."

The Painter legend is as fascinating as it is sketchy. He lived heroically. Like many pioneers, he died tragically.
He was born in February 1847 in Elijay, Gilmer County, Georgia to Alstin and Phoebe Painter. He joined the Georgia Cavalry State Troops as a teenager during the latter stages of the Civil War.

He migrated to Texas after the war, probably on horseback, and established roots near the present Rock Church.
He farmed. He preached. He took a wife, Hannah Aust, by whom he had two children, Cynthia Caroline and Mary Gertrude. Hannah died in 1878 giving birth to a third child, Elmina. The child was either stillborn or died shortly after birth.
Leander then married Kelsey Lee Tidwell, a reputedly combative sort who bore him three more daughters.

On Oct. 19, 1885, at the relatively tender age of 38, Painter passed on of consumption or tuberculosis, which he'd apparently contracted traveling on horseback among country churches at which he presided.
If you took bad sick in those days, you were usually a goner. Painter lingered before expiring, Furlow said.

"Tuberculosis is what took his life. It was not a quick death. I'm not sure how long he endured it or when he caught it. If I knew how long he had it, I could isolate when he caught it."
Family lore led Furlow to the Painter legend and Painter grave. He tends both lovingly.

"It started with my grandfather, Vester Thomas Furlow. Everyone called him Vek. His father, Timothy Augustus Furlow, was a Confederate veteran. Everyone called him Taf.
"Taf was actually six years older than Leander, who was his father-in-law. Taf was born in 1841 and Leander in 1847.

"That's how I got interested in trying to trace the family back to Leander. I wanted to learn more."
Some of what he learned, confused him.

"Leander's brother was in the First Georgia Infantry, fighting under (Robert E.) Lee," Furlow said. "Leander was hanging around the 11th Georgia Cavalry. I haven't figured that one out.
"It may be because he was only 14 or 15 when the war broke out, and he was too young for anybody to sign up. So he joined toward the end when they took old men and young boys.
"As far as I know, Leander was pistol-carrying cavalry. He was a combatant in the Siege of Savannah. And he was pretty much just a kid."
The war likely affected him spiritually.

"As young as he was, I'm sure he did a lot of praying before the war was over," Furlow said. "That may have led him to become a preacher when he came here."
Like many, he vacated the Deep South to escape post-war poverty and the politics of Reconstruction.
"Texas was virtually untouched by the war, while the Deep South was ravaged," Furlow said. "It was either live through Reconstruction there or face the Indians here.
"Land was cheap here, and there was lots of it. My understanding is Leander came to Texas very shortly after the war ended. He may have traveled with some of the Alabama Partisan Rangers. They all seemed to settle around here at the same time."
No one seems to know exactly where Painter set up housekeeping.

"I would guess within a five-mile radius of Rock Church," Furlow said. "He preached at Rock Church and at three other communities."
Equally mysterious is the Hannah Aust story.

"Hannah Aust came from Stoddard County, Missouri, with the Gunnels family," Furlow said. "That's a point of confusion, because William and Delilah Gunnels had a daughter named Hannah. So there were two Hannahs in that household.
"Hannah Aust died giving birth in 1878. She and the child (Elmina) are buried off Baker's Crossing Road. Initially, that was going to be the site of Rock Church, and those were to be the first two burials in that cemetery."
They were the only two. Jesse Caraway eventually donated land for the present Rock Church Cemetery, a half-mile or so as the crow flies from the lot containing Hannah and Elmina.
"I remember driving down Baker's Crossing years ago and looking out and seeing these concrete-enclosed structures over the grave," Furlow said. "Now, I can't find any of them. I'm afraid something influenced them to disappear.
"It was Vek who took a piece of sandstone and carved 'Mother Painter & Daughter 1878.' He didn't know the month or day. He had that sitting in the rock enclosure. My dad and uncle and I replaced that stone with the present stone.
"Eventually, I'm going to add another stone on the east end of the grave that says 'Hannah Aust Painter and Daughter Elmina.' I wish I could find the exact date of death."
Leander was among the early heavy-hitters of North Central Texas.

His was one of 284 signatures on an 1870 petition of Hood County citizens for donation of land for county seat purposes.
He was more than a signature, of course, to his precious church congregations.

"In a world without radio and television, religion was very important," Furlow said. "People in small communities immersed themselves in God.
"I have no problem with that. I happen to believe in Him quite thoroughly myself."

Leander Painter continues to spread the word of the Lord around Rock Church … if only through bells, shadows and a history-minded descendant.
"It's a tragedy to me that I never got to meet him," Furlow said. "Of course, I will eventually."