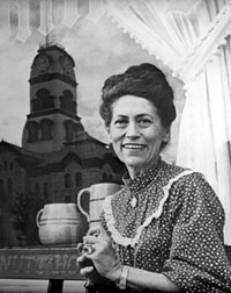 Granbury's preservation leader dies
by KATHY SMITH
Lifestyles Editor
She was a mother and an author, a restaurateur and an innkeeper, and the grand matriarch of Granbury historic preservation.
Mary Lou Watkins, 83, whose vision and dream of restoring her hometown brought about the Granbury as we know it, died Tuesday morning [January 30, 2001] in Presbyterian Hospital in Dallas after a long illness.
In the late 1960s, Mary Lou returned to Granbury and the house in which she was born and carried on the pioneer spirit first felt in Granbury in the 1870s by her grandfather, David Nutt, and his brothers Jacob and Jesse Nutt.
After restoring her grandfather's home, she restored the historic Nutt House Hotel and Dining Room on the northeast corner of the square. It opened for business in 1970 with what Mary Lou referred to as "good country cooking."
But Mary Lou was never one to sit on the bleachers; rather she was one of Granbury's most powerful players in the game of historic preservation and restoration.
Along with a handful of concerned citizens, such as Jeannine Macon and the late "Sis" Henslee and Joe Nutt, Mary Lou's dream was to put Granbury on the map as a tourist destination and she knew that historic preservation of the 100-year-old square was the way to do it.
"Mary Lou had a great vision of what we needed to do for Granbury," states Diane Lock, Mary Lou's friend and co-historian. "She was the force that brought about the statewide recognition Granbury has now."
Mary Lou was instrumental in having the historic square recognized by the Texas Historical Commission and the achievements she gained at the Nutt House Hotel and Dining Room motivated other building owners to renovate the rest of the square in the years that followed.
Friend and fellow Granbury Historic Commission member Claudia Southern remembered the spirit Mary Lou imparted to those around her. "Mary Lou was instrumental in saving the Granbury square from some plans for demolition, and recruited an army of supporters who followed her spirit and lead in making our square the model for the Main Street Program in Texas."
One of Mary Lou's strongest supporters and fellow workers was Jeannine Macon. The two wore many hats in the early days of tourism on the historic square.
"We were the chamber of commerce and the tourism office for the square," Macon said proudly in a Hood County News interview last year. "Mary Lou was involved with tourism on the state level and Granbury won many awards (because of Mary Lou)."
Mary Lou not only spurred others on to share her dream, she worked diligently to promote her own business, the Nutt House Hotel and Dining Room.
For close to 30 years, people frequented the Nutt House for heaping helpings of chicken and dumplings, hot water cornbread, black-eyed pea salad and buttermilk pie. And many times, Mary Lou visited with the customers standing in the buffet line, then retreated behind the counter to serve them herself.
"Thank goodness we had Mary Lou and her tenacity," says Bob Brockman, former Granbury city manager. "If you wanted something done to completion, all you had to do was give it to Mary Lou.
"She was like a little bulldog," laughs Brockman. "When she set her mind to something, you'd better get out of her way, because it was going to happen! I loved her to death."
Mary Lou is survived by three sons and three grandchildren. Services are pending.
Hood County News 02/01/2001
OBITUARY
GRANBURY — Mary Lou Watkins, 83, businesswoman, community leader and longtime promoter of historic preservation, died in her sleep in Dallas on Tuesday, Jan. 30, 2001.
Memorial service: 1 p.m. Saturday, Feb. 10, at Tarleton State University Cultural and Educational Center, 308 E. Bridge St., Granbury. Burial: Granbury Cemetery. Visitation: Friends will be received at her home after the memorial service.
Memorials: The family requests that memorials be directed to the Granbury Opera House Preservation Fund, Box 297, Granbury, Texas 76048; or Hood County Historical Society Scholarship Fund, Box 482, Granbury, Texas 75048.
Mary Lou was always a rare combination of listener, dreamer, tireless worker and motivator. During her early life she was a fashion model, saleswoman, author, mother, housewife, church and community volunteer, but she is most widely known for her work in Granbury.
Mary Lou returned to Granbury from Dallas in the late 1960s to restore the house in which she and her mother were born. After reopening the Nutt Hotel and Nutt House Dining Room, she recognized the economic success of her business, and her hometown, lay in the neglected beauty of the unspoiled town square and county courthouse.
Mary Lou and a small number of similarly resolute townspeople led the restoration of the limestone structures of the square. They assured the historic site's future integrity through official designation by state and national agencies. Their dreams, adaptive reuse of these structures and their ability to preserve the spirit of the small-town Texas life generated national recognition and a tourism economy for Granbury.
Mary Lou attended the University of Texas where she was a member of Chi Omega. She was a member of St. Michael and All Angels Episcopal Church in Dallas, where, before her work in Granbury, she taught Sunday school and was deeply involved in parish affairs. She co-authored with Ann Jensen a historical novel about Dr. Franz Mesmer, edited the book "Horse Tradin'" by Ben K. Green and wrote and edited children's stories.
Mary Lou was preceded in death by Louis Ransom and Charles Lee Watkins Jr.
Survivors: Her sons, Arthur Kent Ransom and wife, Jeanie, Charles Lee Watkins and wife, Pamela, and David Louis Watkins, M.D., and wife, Lori, all of Dallas; grandchildren, Shannon Ashley Watkins, Jennifer Leigh Watkins and Charles David Watkins; and cousin, King Hiram Faulkner of Granbury.