by Lee Johnson
Reprinted from Fort Worth Star-Telegram dated July 25, 1971
GRANBURY – Mrs. Mary Lou Watkins of Granbury is determined to preserve the West Texas flavor of her home town. The old Nutt House figures strongly in her dreams of the town's preservation.
The Nutt House is a hotel, dining room and antique shop on the north side of the town square.
In 1968 the Texas State Historical Society awarded the Nutt House its medallion, naming it a historical and cultural landmark.
With the help of her first-cousin, Joe Nutt, Mrs. Watkins has renovated the downstairs portion of the Nutt House in an attempt to preserve its "West Texas flavor."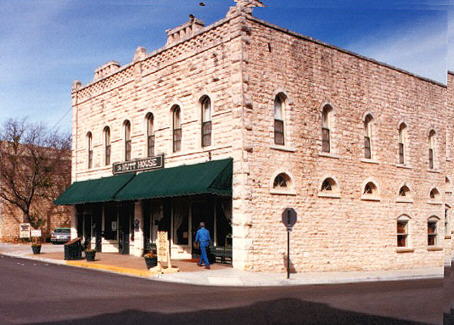 The Nutt House – Photo by Wayne Moyers
Built of hand-hewn stone in 1893 by Mrs. Watkins' grandfather, David Lee Nutt, the Nutt House occupies the old site of a mercantile store constructed on logs. It was here that two of the Nutt brothers, Jake and Jesse, both of whom were blind from early childhood, began operating their general store in 1866. David Lee was the younger brother of Jake and Jesse and served as their "eyes" in the mercantile store from the time he was 12.
In 1879 David Lee Nutt and his wife built the house where both Mrs. Watkins and her mother, Mrs. Frank W. Mehrten, were born. Until 1900 this house doubled as a hotel. The suppliers of Nutt's merchandise had no other place to spend the night when visiting Granbury on business.
This provided the rationale for building the hotel and restaurant. In addition, the new building served the mercantile store with larger facilities.
Mrs. Watkins and her mother returned to Granbury from Dallas in November 1968, to begin restoration of the family homestead. "I feel that it's important to know where I came from," she said, "This place is so beautiful, I'd like to preserve it."
With restoration of her birthplace completed, Mrs. Watkins began on the hotel, which had been closed for 15 years. The downstairs portion is now finished, and a new dining room was opened on March 14. The 17 rooms upstairs are being made available for occupancy one by one.
The hotel lobby and dining rooms occupy the east half of the downstairs; a lock and antique shop operated by Mrs. Mary Dixon takes the place of the old mercantile store on the west.
Mrs. Watkins takes a special interest in the dining room operation. "There is a folk art of cooking in this part of the country," she observed, "And unless it is preserved, it will disappear like everything else."
"Perhaps the early settlers did not know the names of all the vitamins, but they were aware of their essential qualities and prepared their food accordingly," Mrs. Watkins explained. "We are trying to preserve their manner of handling and preparing country food and to do with country cooking with [sic] Eddie Arnold did with country music."
Mrs. Watkins hardly considered the damming of the Brazos River and the development of the subsequently formed Lake Granbury to be a threat to the community. Rather, she said the "new people have made the restoration possible."
"This town has that West Texas feeling, and we are trying to preserve it; not just the two of us," she said, referring to herself and her mother, "but the whole town in general. We are trying to restore the home place of people who once lived here and draw them back as I was drawn back."
"I have no plans," Mrs. Watkins explained. "Just dreams."
Mrs. Watkins is not alone in her efforts. The Judge Fite Co. in the old saloon two doors to the west of the Nutt House and the First National Bank at the west end of the square's north side have both remodeled their store fronts and interiors without destroying their "West Texas flavor."