Happy hundred!
Fine-feathered friends flock to woman's 100-year-old birthdayby Kathy Smith, Lifestyles Editor – Hood County News On-Line Edition 10/15/1999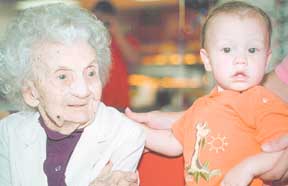 Nona Moran celebrates 100th birthday with great-great-grandson Jacob Silcox
Nona Moran of Granbury Villa had a birthday party Tuesday unlike many people. Moran celebrated her 100th birthday. Moran, born Oct. 12, 1899 in Fall Creek in southeast Hood County, was treated to a chicken dinner birthday party by Chicken Express owner Steve Mitchum. Mitchum first met Moran 10 years ago when she came to the restaurant with her friends to celebrate her 90th birthday."I told her when she turned 100 I would treat her and her friends to a party," explained Mitchum. And "treat" he did. Mitchum arranged for a white, stretch limo to pick up Moran and deliver her to the restaurant. Waiting for Moran was about 30 friends and family. Moran was joined by many of her immediate family members, but not all could attend, which might have been a good thing. There may not have been room for all of them. Moran has two children, eight grandchildren, 17 great-grandchildren and 14 great-great-grandchildren. Moran's two children, Anita Bullock and Harry Moran of Granbury, are as proud of Nona today as they were 60 years ago. "Our father died in 1938," recalls Bullock, "and Mother never remarried. She worked hard to take care of us. I was 12 and my brother was 9."Bullock explained that Moran was placed in a work program in a local dress factory by the WPA. When the factory closed, Moran was sent to work in the school lunchroom. "Then, she worked for the Miss Marilyn dress factory," says Bullock, "which was in the Masonic Lodge building on the square. She worked there until she was 75."Moran, a tiny 4-foot, 10-inch woman, has never lived anywhere other than Hood County for 100 years and is anticipating the turn of the century. "To think she was born in 1899 and will now see the year 2000," Mitchum stated, "is great! "Moran, as well as her church friends and family, enjoyed feasting on fried chicken and mashed potatoes and even shared her special day with great-great-grandson Jacob Silcox, who turned 1 year old on the same day. Even though her eyesight is failing, Moran delighted in the day's festivities. Her son, who commented that he had given his mother a "run for her money" during his youth, summed up his feelings by saying, "She is the best mom in the world."
Copyright © 1999, Hood County News and HCN Online Services.