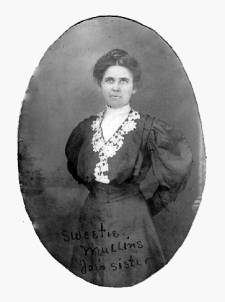 Sweetie Mullins Leitch, 1878 – 1910
Sweetie Mullins Leitch was the third baby girl born into the family of Thomas P. and Nannie E. Mullins. She was born in Granbury, Texas, July 12, 1878. Her older sister, Lula, who loved and cared for her so much, always called her "Sweetie." Unfortunately Lula was burned to death in an accidental fire, about four months after the baby was born. Playing under some big trees, just west of the Mullins home at 1030 West Pearl Street, Granbury, in what is now known as City Park along the edge of Highway 377. A smoldering log had been left by some campers and when Lula happened to sit down on it, not knowing that it was afire, her clothing ignited and when she ran, screaming from the pain, the clothing burst into flames. When the other children she was playing with caught her, her flesh was so badly burned it sloughed off in their hands. This sad accident happened on November 9, 1878. As "Sweetie" had not yet been named, her parents gave her the name Lula called her, and she became Sweetie Mullins.
True to her name, Sweetie was a likeable, friendly, disposition. She clerked in a store for a time, and was a member of the Methodist church. She was married to Luther Leitch, January 25, 1902, at the Methodist church, by the pastor, Samuel J. Rucker.  Luther David Leitch was born August 16, 1876 and died April 28, 1904.  Two children were born into the family, a daughter, Dora Luther, born September 14, 1904, and died January 5, 1905. A son was born and died on July 2, 1903.  Sweetie Mullins Leitch was bereft of her husband and two children in the short space of three years.  They are all buried in the Leitch family burial plot in the Granbury Cemetery.  Sweetie died July 3, 1910.